It's back to school, and your home will probably be the emptiest it's been all season.  And sadly, there are some people that will take advantage of that.  Beyond wanting to keep your home protected from intruders while you and your family are away, maybe you have a curious cat that seems to always get into your closet, or you have a nanny or housekeeper going in and out, and you just want to keep an eye on things. It's all about peace of mind. Whether you have a 5 bedroom home or a little cubicle aka a dorm room that you're sharing with another person.  We all want to make sure our space is safe, and lets be honest, we are all curious about what goes on while we're away.
What I love about these home surveillance options is their mobility–they are portable and can be placed in any room or location, which is great for you and the new occupants of your apartment or house when you move.  Secondly, you don't have to worry about in-home or phone consultations.   You can you use them in spaces other than your home, like your office or apartment.  There are a variety of  automation systems out there, but I think the Gaurdzilla and the Canary are pretty all encompassing, and give you a lot of features for a great price point!
The Gaurdzilla $99.99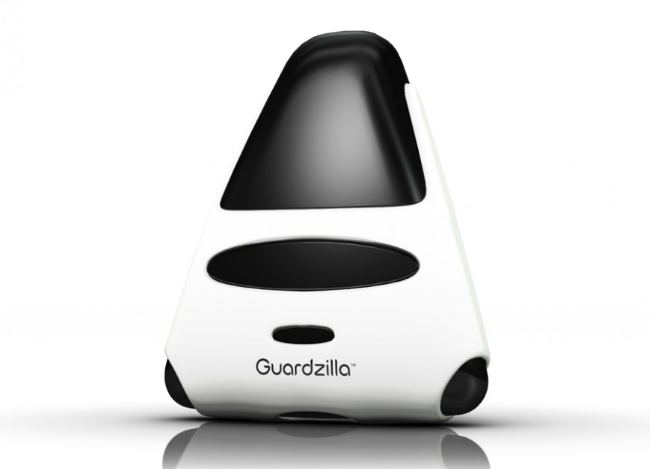 The Guardzilla is an all in one, wireless system  with a great price point at $99.99.  This device gives you the ability to see what's going on in your home with a live feed camera and it also sends notifications to your phone if it detects a motion disturbance.  This little nugget also includes night vision and a pretty  legit siren! This works with both android and iOS systems; once your Gaurdzilla is placed on top of a stable platform, like a desk or bookshelf, and powered up,  you download the app and can monitor your home, arm your system, sound the alarm and log activity all from your phone!  That way you can personalize
Other cool features:
Pet immunity
two-way audio lets you communicate through the device
auto disarming and arming
100dB siren
24/7 monitoring and security
for indoor use only
Wide angled lense
Wi-Fi Enabled
Canary $249.99
The Canary is similar to the Gaurdzilla in that it's an all in one, wireless security system (also compatible with iPhone and Android) that can be placed in any room to give you 24/7 surveillance.  This too gives you complete control and customization using your smartphone, sends you live video and notifications, requires no monthly fee and no installation.  But of course, this sleek device isn't nearly twice the cost for nothing!
Canary pretty much has all the capabilities of the Gaurdzilla with some extra, fancy bells and whistles, including higher quality video at 1080p HD (if that's your thing).  This bad boy stands out because it really is a SMART device.  When you think home surveillance, you obviously want the ability to have instantaneous information at your fingertips… video, notifications, the whole deal.  But the step above, is having a device that not only detects and reports what's happening, but also learns the environment and adapts to your day-to-day routine and actually becomes more efficient as time goes by.
And that's what you get with the Canary. So, with the Gaurdzilla, you have to manually arm and disarm the device either from you phone or the console.  But the Canary knows when you enter the room and when you leave, so it adjusts the setting on its own.  Another major feature for me is their HomeHealth Technology.  You not only get surveillance, but important environmental alerts to ensure your space is safe, including the unseen.
Great features:
90+dB siren, connects directly to local police and fire departments
Built-in monitors track air quality, temperature and humidity
Snag them blow!